Childbirth In The Age of Plastic – Clarence Mews 2016-2018 Work in progress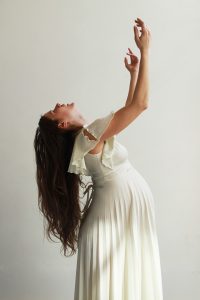 A one woman show that explores the transformative journey of menstruation to motherhood. Delving into the parallels in how we treat the labouring mother and how we treat the life giving earth. Exposing how nothing is sacred and everything has been reduced to time and money. The show captures potent yet fleeting moments in a woman's life in an age of disposable plastic and shiny, white instant gratification. These crucial transformative experiences which bring a women into motherhood are often usurped, cut short or taken from her.
Sacred songs, spoken word and acting conjure multiple women facing the initiation of childbirth.
Devised and Performed by Alex Hanly
Mentor – Caroline Salem
Song Mentor – Ewa Pasikowska
Ceremonial Theatre – Long dance 2012-2015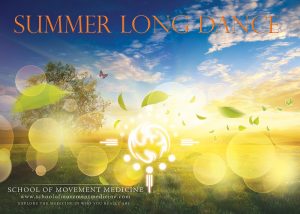 The Long dance is a 72 hour, sacred dance ceremony set in Somerset for approximately, 200 dancers. I create participatory, interactive, ritual theatre utilising my skills as both a director and actor alongside other actors every year. The actors are always visible and engaged in the ceremony. During the 72 hours different roles, choreography, text and songs emerge.
Actors – Alex Hanly, Gabriel Facchini, Maria Joa Soares, Sarah Warde, Ana Andrade
Director – Alex Hanly
I'm Charlie – Site Specific London Well Furnished Hackney 2012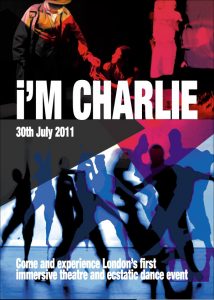 Immersive spoken word poetry, physical theatre and interactive improvisation come alive in the shell of a old furniture factory in Hackney. Charlie has been lost for some time, but tonight he/she has the opportunity to go home. Will you make it home? Come and journey through the labyrinth of yourself and see where you end up.
I directed and performed in "I'm Charlie" alongside a cast of 32 Actors. This ambitious participatory and immersive show received great reviews from a wide range of audience members.
"The most fun I've had without drugs or alcohol"
"It's crazy to me, I never dance, I hate dancing, but when the music came and the show started to move towards dancing I had no choice. My body just started to dance. And there I was laughing and watching myself dance, in public. And to my surprise, it felt good."
"A celebration of hope, beautifully delivered by all the performers."
Urbanised – Hoxton Hall 2010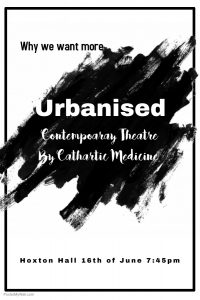 Physical theatre dissects consumerist culture, money hunger and soul deprivation. This looks into what drives our hunger for more stuff, more money and why bigger is often seen as better? Why are we so easily sold our futures by a corporate world?
Actors – Alex Hanly, Amelia Merchant, Richard Young.
Director – Alex Hanly
Hanging Woman – Walsall Art Gallery 2009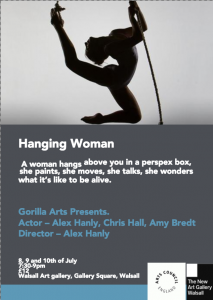 A woman hangs above you in a perspex box. She paints, she moves, she talks, she wonders what it's like to be alive.
Actors – Alex Hanly, Andrew Pullen, Peter Longbottom
Director – Alex Hanly
Chaos Bar – Radio Play 2007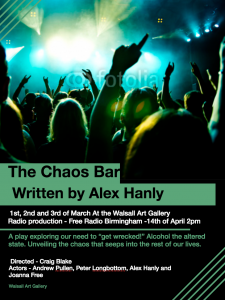 A play written by Alex Hanly exploring our need to "get wrecked!" Alcohol the altered state, and the chaos that seeps into the rest of our lives.